Many village people who were acquaintances and friends visited them throughout the day as my aunt & uncle involved themselves in the service to the society by devoting part of their daily time. One such friend was Mr.Rao. He was in his late '50s that time. Everyone called him 'Paint Mama' as he had worked as a painter in the railways and there are so many uncles like him visited their place, we identified him as 'paint mama' . He did some painting jobs for my uncle & aunt too. He didn't have children so he and his wife were very affectionate to all the children they came across. When I was in my aunt's place for that vacation, my nephews and nieces (the grandchildren of my aunt) also joined us. Our Paint Mama visited us that day in the midnoon after lunch. We were playing, shouting and running in & out of the house. After his chat with my uncle and aunt, he called us and told that he was going take us for a picnic. Hearing the word 'picnic', we all shouted with joy
and danced happily
. Within few minutes we were ready with washed bright face, neatly brushed hair, wearing our chappals and ready for the picnic.
They had a small house in one corner of the town.
We passed many small lanes, green fields, narrow streets and finally reached their house. It situated in a small plot
housing
two homes side by side. Paint mama has given the other one for rent where stayed a young couple with a few months old child. The houses were very old, red coloured tiles neatly arranged on wooden planks formed the roof.
It had a living room and a kitchen. After the long walk we were rejoiced to see the
ambience
inside and outside the house.
In front of the house lied the Garden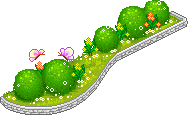 where a Mango Tree stood in the Corner, Next to it was the Jackfruit tree with jackfruits hanging (unripen). On the right side, near the compound wall grew some Tapioca Plants. Rest of the area was covered by other plants flowering as well as non-flowering

the name of which I don't recollect now. Under the Mango Tree, we saw few steps leading to a tap placed below ground level which supplied the famous 'Siruvani' river water which tasted sweet.
Paint mama, called mami and gave her some
instructions
. He then went to the place where Tapioca were planted. He had a tool (heavy thick iron rod with sharp end) in his hand and started digging for the root. We with our curious mind and eager eyes surrounded him to catch a clear glimpse of what he was looking for. Soon out came the tapioca root. He collected few and washed them thoroughly.
Out came the stove, followed by other kitchen equipements viz., Kadai, Oil Tin, 5 Spice Box, etc. After our afternoon play and the long walk to his place, we were already hungry. So we guessed an yummy snack was
getting
ready for us.
Mama & mami set up a
small kitchen
in the shade of the tree. He cut the tapioca into small cubes, assigned tiny jobs to us (so that we could also take part with interest). I went & fetched the siruvani water from the tap, he washed the cubes & drained. Lit the stove, one of us kept the kadai. In went the oil, then mustard seeds which spluttered happily. Next went in the masala powders, tapioca cubes and haldi. He fried them well for few minutes giving us an opportunity of occasional stirring. Poured in some water, covered it.
To keep our hungry mouth & restless mind

occupied, mami brought some raw mangoes, nicely sliced & coated lightly with salt & red chilli powder. That was tasting so good. Small story talks helped passing the time. Our eyes looked at the stove quite often as our stomach & nose kept reminding us of the yummy snack. Finally the nice aroma filled the air. Mama took the lid and declared that the snack was ready. We all shouted with joy, Collected our small plates and took our share of the yummy yellow tapioca cubes. It was piping hot hence we blowed at it to cool it off and slowly piece after piece
the tender tapioca was popped in. It was very delicious – factors contributed to it viz., the hunger, fresh tapioca, the cooking ambience, the love of paint mama & mami, our
contributions
, Siruvani Water, interesting chit chats, etc.
With a content tummy, yummy taste still lingering in the mouth,

a satisfied look lit up our face
. We played some games
, helped mama & mami to shift the things back into house. Then we started towards our place with mama after bading a sweet goodbye to mami. Mama took his bi-cycle, we all walked with him crossing the street, fields and lanes, finally reached the main road and then our Place. That night even after the lights were put off, we had our pillow talks
on our small picnic till the elders who were disturbed by our whispers told us to keep quiet
& sleep. With great difficulty, we kept our mouth shut

and finally went to sleep.
This picnic became a most memorable one in my life
, still evergreen in my memory. Hope my nephews and nieces also remember it
.