Three days back, heard some rumbling sounds. They sounded familiar but amidst
my work
I didn't venture to look out for the cause. I calmed the curious cat inside me. I kept it for some other time and carried on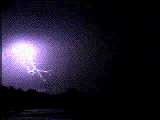 By evening, saw some good light effects coming as if from a discothe. I understood that celebration going on

to welcome a special person in the region. Soon cool breeze started blowing, then it became windy
. Yes!! The long awaited VIP has finally arrived. All those sounds and lighting were made for announcing the visit of this someone special. Yes, it the "Monsoon" that every soul here waited for. Soon the rumbling sound was taken over by the loud drumming of the rains with occasional loud thunders

.
I went to close the windows as the wind brought the dust too making the back of my feet black. The wind passed through the little space between the closed glass doors making a gushing noice and making ours a
haunted house
with its sound effects for 30 minutes.
Our meterological department predicted
the visit on 15th of June however this special thing has once again proved that it is" special"
by making an early visit on 5th of June. The hills, insects, birds, animals, humans all waited for this carnival and now its celebration time!


The thunders and lightening gave a wonderful sound & light effect to
the carnival
.
The frogs
near the pond happily danced
to the tunes &

croaking loudly with joy. Soon an orchestra

started with the cranes joining in. The crow cawing every now & then. The magpie robbin blowing its sweet notes through out the day. Sparrwos
chirping happily. Mynahs making a hopping as if they are dancing to welcome the rains with their varied notes. Many new notes of the unknown birds joining them. The noisy pegions have for a change kept quiet, sitting cosily in all available spaces taking shelter from rains. If there had been any peacocks, they would have also gracefully took part in the celebration
then that would have become a wonderful feast for eyes with the black clouds on the back ground. Soon it started raining

Children and adults came out of their house to get themselves wet by the celestial showers, shouting with joy

and dancing

. It's a different sight altogether. A great stress buster for many. The trees & plants looked fresh as the showers washed away the dust.
Normally before every monsoon, the local authorities take some clean up work but this time it didn't happen. Will they ever learn not to postpone today's work? With the early onset of monsoon, some roads were flooded with the blocked drains. For our negligence I cannot cribb & curse the rains
. So started enjoying it as its better than no water days due to water shortage.
Yesterday evening, I thought of having a quick glimpse of the rains and was surprised to find our castle built among the clouds. It was very foggy. Soon it cleared a little and I went for my evening walk. Drizzling started. I could not see the hill top from the road as it was covered with mist. Enjoyed my cool walk on the dirty road as the beauty of monsoon has taken over me than the dirty roads. Whatever it is, the plants, treets, insects, animals, birds and humans all are set to enjoy the two months of the celestial carnival which happens here only once in a year. It's the time for celebration!